The Star Trek Tour Set and the special events it supports lets participants and their families also enjoy the special nature of the Ticonderoga area. It is located in the heart of the Adirondack Mountains, renowned for their beauty, recreational offerings, and famous for its historical importance in the birth of our nation. The town itself sits between two great lakes, Lake Champlain and Lake George (with Lake George being consistently rated in the most scenic lakes in the country – See article HERE.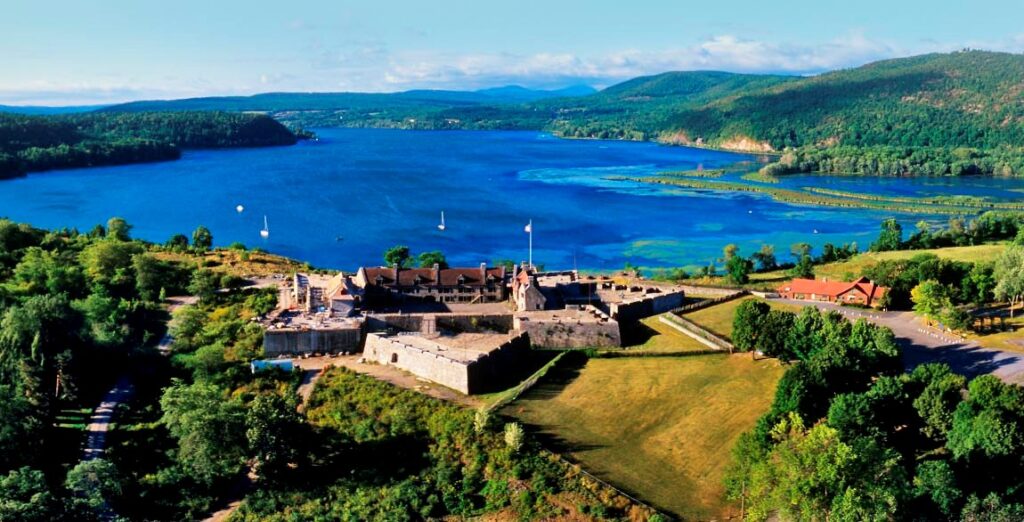 Not to be missed is Fort Ticonderoga, an acclaimed historic site with restored fort and gardens, extensive exhibits related to the French and Indian and Revolutionary Wars, and a boat ride on Lake Champlain. Lake George also provides attractions such as two beaches (a swim in the crystal clear waters of Lake George is an experience to remember), boat rentals for power boats, canoes and kayaks, a variety of hiking trails, and the Rogers Rock campgrounds with its technical rock climbs (starting from a boat).
The southern end of Lake George also has a variety of tourist attractions, including the Great Escape theme park.
The higher mountains of the Adirondacks are nearby, which can include hiking and driving through beautiful countryside (such as driving up Whiteface Mountain) as well as touring the Winter Olympic Games facilities in Lake Placid.
The town of Ticonderoga itself is also very special. It Is a place where one can step into America's small town world, with a slower pace and a strong sense of community. Indeed, Ticonderoga is a place that is full of friendly people who will make you feel welcome.
---
Area Links
Ticonderoga
Lake George and Lake Champlain
Adirondack Park